Are you looking for something to read this summer? Here are a few of my favorite books I've read lately and my take on them.
Running Barefoot by Amy Harmon
:
"
When Josie Jensen, an awkward 13-year-old musical prodigy, crashes headlong into new kid Samuel Yazzie, an 18-year-old Navajo boy full of anger and confusion, an unlikely friendship blooms. Josie teaches Samuel about words, music, and friendship, and along the way finds a kindred spirit. Upon graduation, Samuel abandons the sleepy, small town in search of a future and a life, leaving his young mentor behind. Many years go by, and Samuel returns to find his old friend in need of the very things she offered him years before. Their roles reversed, Samuel teaches Josie about life, love, and letting go.
Deeply romantic and poignant, 'Running Barefoot' is the story of a small town girl and a Native American boy, the ties that bind us to our homes and families, and the love that gives us wings.
"
This book was part of a boxed set of romance eBooks I picked up a while ago. I went into it expecting another quick romance book, but wow. This isn't your usual romance. It turned into one of those books that you think about for a long time after you've read it. I was touched by Josie and the people of the small town. They were real and vibrant with believable problems and shortcomings. A clean read with a lot of power.
Rising by Holly Kelly
: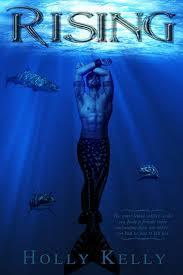 "In a war between the humans and the inhabitants of the sea-humans will lose. Xanthus Dimitriou-the most lethal Dagonian to rise from the ocean-is on a mission to save mankind from annihilation. But first there's one small thing he needs to do... kill a beautiful young woman in a wheelchair. Killing her doesn't start out as part of his plan. He entrenches himself deep in the human world. Aligning himself with his enemies, he prepares to send them to Triton to face their punishment. Then Sara Taylor rolls onto the scene. Xanthus knows at once she's a criminal. And her crime? Being born. She's a human/Dagonian half-breed, an abomination. Killing her should be an easy job. All he has to do is break into her apartment, slit her throat, and feed her body to the sharks. Simple, right? Wrong. If only she weren't so beautiful, so innocent, so sweet... Saving the world may have to wait. It appears Xanthus has a woman to save. But protecting her may cost him his own life."
This was my first time reading a mermaid book. I enjoyed it. It was a fun read with plenty of action and a good dose of romance. My favorite parts were the ocean details when the characters were underwater and the way Triton is portrayed. It was cool to watch Sara rise above her challenges and realize who she was. And a hansom Dagonian is always a good addition. ;)
I also read the second book in this series, Descending.
It was another romance, but didn't feel like a copy of the first book. It took a whole new approach. The story is told from
Sara's and Xanthus's best friend's view points, and Kyros and Gretchen stand on their own as unique characters. The reveal of Gretchen's past was done well. I liked the included mythology that creates the background for the character's
lives and the story's plot. I also enjoyed the story twists and how each character's part ended up being wove together. It sets things up well for the third book, which I'm looking forward to reading.
Prank Wars by Stephanie Fowers
"All war. No love. Madeleine's been hurt too many times in the dating scene to let Byron beat her in some huge prank war. They've had their deserters, their POWS, their casualties, but no one can risk losing the battle of the sexes.
Except now something strange is happening at the college...and it's not just the students. Buried deep beneath the pranks is real danger, and the only other person who suspects is Byron. Should Mad join sides with him or does that mean forfeiting her heart to the enemy?"
This book was awesomely funny. I love Stephanie Fowers' sense of humor and the real way she portrays Mormon college life. So great. And I can promise you, you won't be expecting the ending. Well, I wasn't at least. It blew me away. This is a fun, fast read with a lot of laughs and some great twists.
Betrayed by Ronda Gibb Hinrichsen
"1851: Niagara Falls, New York The evidence has been well hidden—the Thayers were confident that it was safe from the clutches of the ruthless Murphy Gang. But it has all been in vain. The lawless group is closing in on the family homestead, and seven-year-old Penny is given only one instruction: Run. After two long years eagerly anticipating her fiancé's return, twenty-year-old Julia Barrett is ready to make a fresh start with Adam Wolcott—even if it means putting her dream of traveling west with the Mormons on hold. But when Adam's return is overshadowed by the unexpected arrival of a young orphan girl in desperate need of help, Julia is drawn into a dangerous mystery that will threaten all she holds dear. Charged with the protection of little Penny, Julia quickly finds herself relying on the help of Tom Harrison, an endearing young man who has long admired her from afar. Torn between two suitors, Julia soon uncovers a shocking trail of corruption and deceit—a discovery that pulls her inescapably into the race to locate telling evidence that Penny's family gave their lives to protect . . ."
If you like historical fiction, this is a action packed read with a sweet message about love and courage. Ronda does a good job of portraying both the good and bad of her characters. It left me wondering just how things were going to work out. This is a romance, but it's more than that. Its also about faith and trusting yourself and your family. Its about doing the right thing, even when it hurts.
Crown Duel by Sherwoood Smith
"Young Countess Meliara swears to her dying father that she and her brother will defend their people from the growing greed of the king. That promise leads them into a war for which they are ill-prepared, which threatens the very people they are trying to protect. But war is simple compared to what follows, in peacetime. Meliara is summoned to live at the royal palace, where friends and enemies look alike, and intrigue fills the dance halls and the drawing rooms. If she is to survive, Meliara must learn a whole new way of fighting-with wits and words and secret alliances.
In war, at least, she knew in whom she could trust. Now she can trust no one."
This book was given to me by a friend who thought it would help me with me own writing. It's actually an older book and was originally published as two separate novels. The copy I read was an edition that had been published with both books in one. I stayed up late to read both books. Its was really great. It's one of those great fantasy books with deep world building, incredible characters, and profound messages. The plot twists were both unexpected, and at times understated, yet they wove together wonderfully. It you like Robin McKinley (Author of Hero and the Crown) you will most likely enjoy this book.